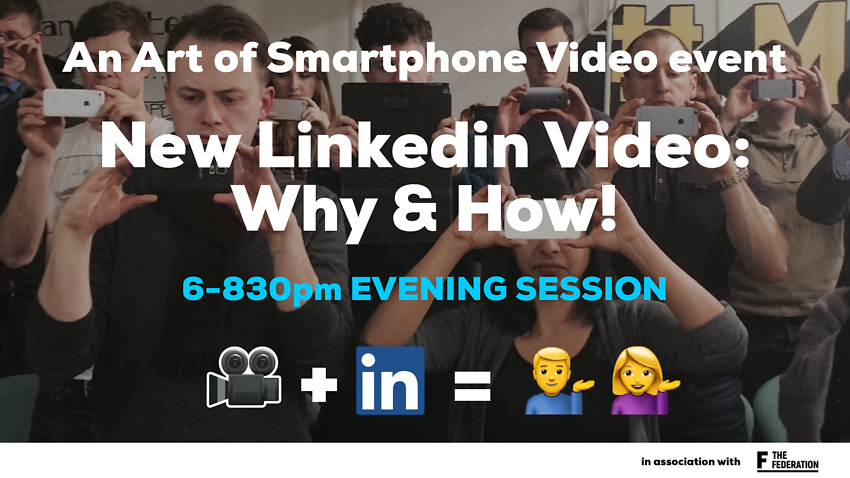 Wow! Its been a little while since our last Art of Smartphone Video event but we're back with a new years spring in our step and ready to deliver BIG in 2018! For those of you who never attended one of our workshops before its a whirlwind session of hands-on video, great speakers and networking.
Linkedin Video? Yes I told you so :)
Last year some of you may remember I predicted that after having been bought by Microsoft Linkedin would introduce native video capability within 12 months. Ok so not the most difficult update to predict but in case you missed the memo as of Nov 2017 Linkedin empowers you to upload video directly to your feed from its app.
Is this a big deal?
This is HUGE news for professionals, marketers and brands. Why? Because Linkedin represents a fresh opportunity to TELL YOUR VIDEO STORY with a uniquely professional audience in mind. Think about that for a moment. Whilst the majority of the attention has been on battle between Snapchat, Instagram and Facebook, Linkedin has quietly been making changes that have helped it to transform from a glorified online CV to a true social network where professionals and businesses exchange tremendous value.
Ok ok got it! Linkedin + Native video = An amazing opportunity. So whats happening at this event?
As usual you can expect an intensely fulfilling experience where you will here examples of people are already taking advantage of Linkedin video and gets hands on creating your own using the smartphone in your pocket. The session moves quickly but purposefully with the objective of leaving you inspired with a new video skills and new connections. I respect your time and aim to ensure its time well spent.
Who should attend?
If you would like to better engage with people on Linked in then yes you should attend. If you want to understand how you can produce video using only your smartphone to tell your story then yes you should attend. If you are keen to network with incredible people from across London then thats another good reason.
Who should not attend?
Anyone who books a ticket with little or no intention to attend. I don't mean to be rude but thats not fair on people who do wish to come but can't the tickets have gone (we are over capacity at every single time). So if you can't make it then don't book it please!
What do I need to attend?
Quite simply an Android or Apple smartphone. Thats it. So thats you then :).
Where will it be held and what time?
The brand new Federation House in Manchester City Centre will be hosting us. The evening session is on the same day a 6-830pm.
Whats does it cost to attend?
Its free but don't mistake that for cheap. So far I've been able to secure venues and speakers without charge but I can't guarantee that will always be the case and may charge in the future.
Thats it. You can RSVP below now! See you on the Thursday 1st March 6pm at Federation House.