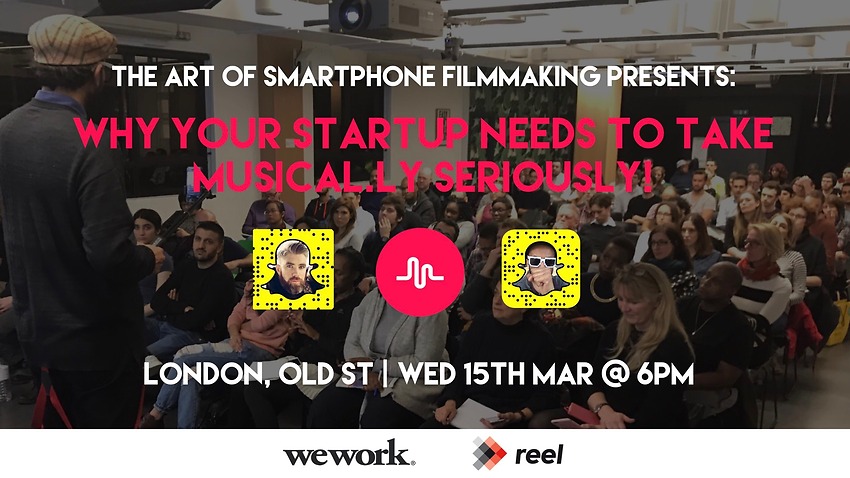 Hands up who has heard of Musical.ly?
Its the social media platform you probably know little about that currently has 60 million daily active users and is growing a staggering rate. In this case ignorance is not bliss!
Ok ok slow down Imran...what is Musical.ly?!
musical.ly is a social media platform for creating, sharing and discovering short music videos. Every day, millions of people use musical.ly as an outlet to express themselves through singing, dancing, comedy, and lip-syncing.
Erm...ok...so its a just lip-sync app right?
Wrong! Its a insanely creative communication tool that 7-16 year olds use to connect and share experiences through bite sized music videos.
Ok got it...so why should I care about Musical.ly?
As you know this event series is all about video storytelling; what it was, what is and what it will be. Musical.ly provides us with an opportunity to explore what storytelling through music means for businesses and startups.
Ok got it! What will happen on the evening?
For those of you who have attended in the past it should will be no surprise that you will be getting hands on with musical.ly and creating music videos! It is going to be a tonne of fun and learning! Just the way we like it!
Guest speaker klaxon!!!
As far as guest speakers go the chap I've managed to secure for the evening is a global musical.ly influencer; @flawlessfox aka Craig Fox
Craig ranks in the top 25 of musical.ly users globally with 100s and 1000s of interactions and will be sharing his experience and advice on what it takes to succeed on the platform and answer the wider question as to what it means to be a video storyteller in 2017 for brands.
Who should attend?
You. You should attend. Because being a better storyteller gives your venture/startup a better chance of succeeding and will play in to your other marketing channels. Remember my events are all about helping you to become better video storytellers and this time we are going to use Musical.ly to do this.
Whats the cost to attend?
Its free. Yes thats right...FREE. The last time we ran an event we have 280 confirmations and 100 on the waiting list. Moral of the story is...RSVP ASAP :).
Ok thats it. Any questions let me know. Best place to catch me is on twitter/insta/snapchat @moiazam
Thanks!
Imran Azam
Founder of thisisreel.co
Thanks to WeWork Old Street for providing us the venue for this event :). WeWork is the platform for creators. We provide the space, community and services you need to create your life's work. To learn more about WeWork's spaces and memberships in London, send an email to oldst@wework.com