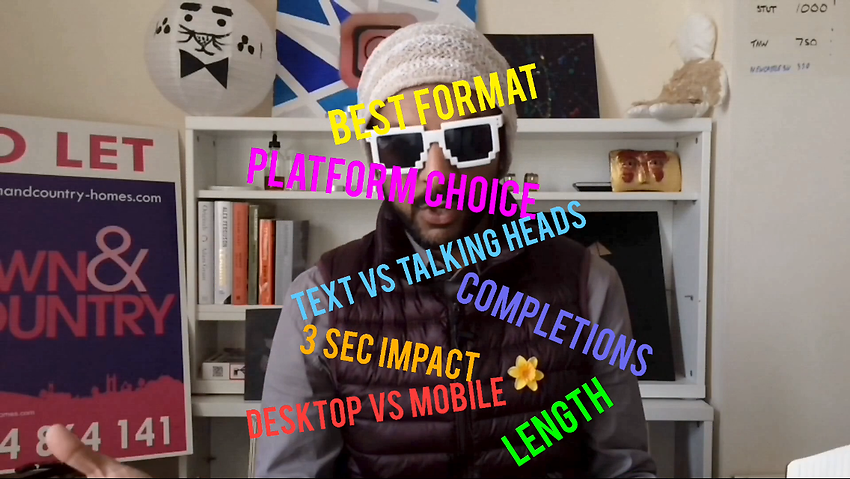 Creating impactful video stories for social requires both artistic endeavor and tactical awareness.
Its clear that producing an incredible video experience that few people have the chance to view because it wasn't posted at the right time, in the right format, on the right channel, optimized for the right device etc...makes very little sense.
Whilst art is subjective tactics are objective; they can be tested and verified. This post offer insight into the tactics you should employ when considering which video format to employ on Facebook, Twitter and Instagram.
The Facts
Did you know that according to Adobe mobile video consumption has gone up by 233% since 2013? How about the fact the video consumption on mobile has overtaken desktop as of Q4 2016? That 80% of people watch Facebook videos without sound? These are just a few examples of information that helps us to make better decisions. Its a moving target but if you want your video content to perform its clearly better to be informed than not.

Which brings us to subject of video format. As consumption of video on social is predicated by its ability to stand out on social feeds its long been suspected that larger square videos (1:1) perform better than smaller landscape video (16:9). In actual fact square video is a massive 78% larger than landscape and its this piece of information that led to the good people at Buffer and Animoto to partner up and run a series of experiments to try and settle the debate around video format best practice.

The Experiment
In total Buffer created 80 videos using 4 formats (1:1, 1:1 letterbox without text, 1:1 letterbox with text, and 16:9 landscape), spent $1500 A/B split testing them across Facebook and Instagram and organically across Twitter. In order to get as close as possible to a standardised testing environment only the Buffer social media accounts were used to post.

The Questions
Its a comprehensive, thorough and fascinating piece of research that answers the following questions;

- Which format performs best overall?
- Does format impact the cost of advertising?
- Does the device (desktop or mobile) impact performance?
- Does the social network make a difference?
- How do 'talking head' videos compare to 'text only'?
- Are the 'first 3 seconds' significant?
- Do longer videos suffer from drop off rates?

The Results
In this 4 min video log I summerise the key leanring points from Buffer's research and suggest what tactics you should employ moving forwards. The results are not exactly what you might expect.

You can watch the video or if you prefer you can listen to the podcast on soundcloud….take your pick :) I'd also highly recommend reviewing the full buffer article.