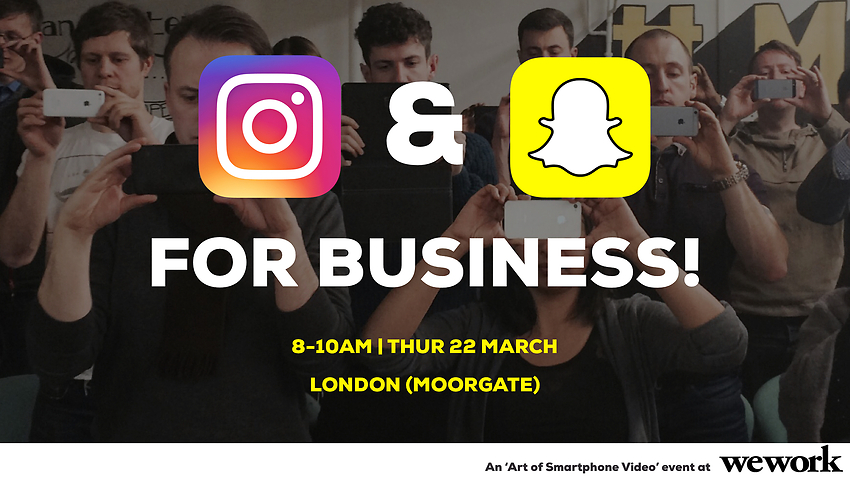 Hands up if don't use Snapchat/Instagram for business but would like to! If thats the case then this event on Thur 22nd March is for you >>>
Snapchat and Instagram combined represent over 1 billion users so it fair to say your clients are probably using it and are waiting to hear from you…but...
…what are you going to tell them and how are you going to do it?
Are you going to SPAM them into submission with adverts or are you going to use the unique functionality of each platform along with proven techniques to attract people who want to hear from you?
Stupid question right?
About this event:
This breakfast seminar will give you the skills, confidence, contacts and information you need to succeed on both Snapchat and Instagram!
During this FREE 2h breakfast seminar Snapchat/Instagram for Business specialist Rob Lee will help you to:
- share business success stories
- help you identify your audience and what they want to hear
- develop a longterm storytelling strategy
- outline the tactics that succeed on both platforms
- answer your questions
The event is in 6 days time and there only 30 seats left this event so please RSVP below asap.
Whats does it cost to attend?
Its free but don't mistake that for cheap. So far I've been able to secure venues and speakers without charge but I can't guarantee that will always be the case and may charge in the future.
Is there food?
We will provide water, coffee and tea for free. Drinks are available at the bar.
Don't worry, we'll do all of this and answer your questions and have you out the door by 10am :)